Create Your Privacy Policy
Why You Need a Privacy Policy
If you have a business website, you should have a Privacy Policy. It's important that your business models best practice, plus it's likely that you'll need one to meet your online legal requirements.
Take heart. It doesn't have to include swaths of pages of legalese. In fact, the more straightforward and simple you can make your Privacy Policy, the more your customers will trust you.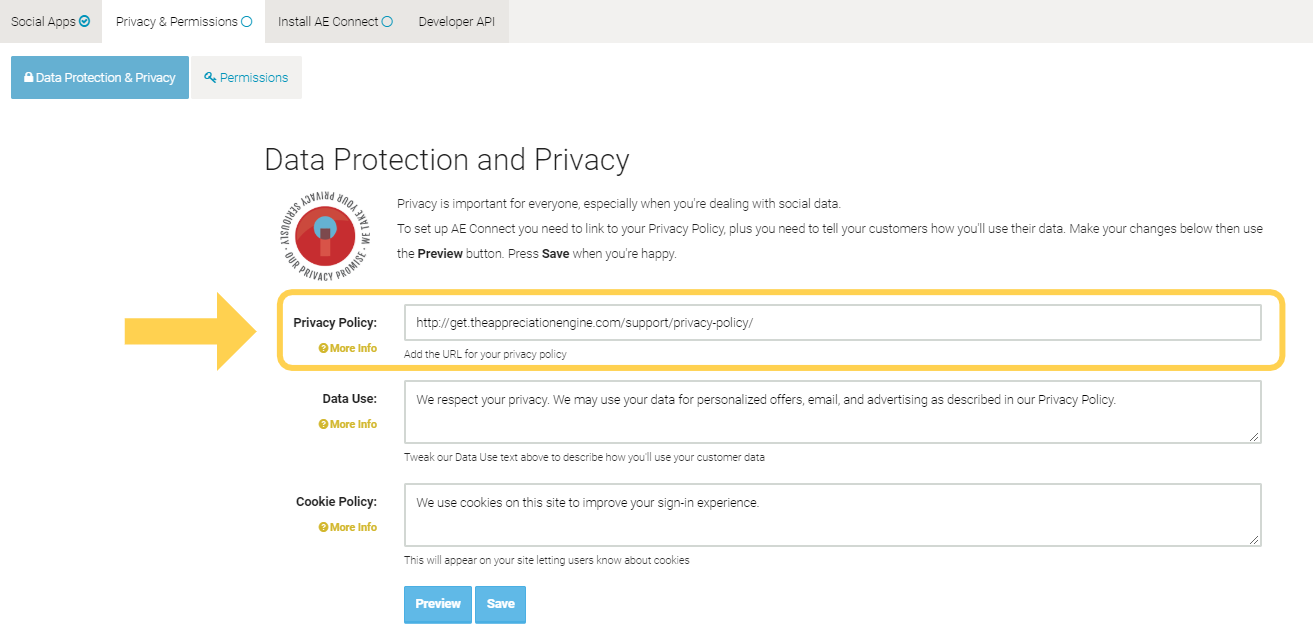 Some Helpful Resources For Writing a Privacy Policy
The DMA (Data and Marketing Association), based in New York describes the outline your Privacy Policy should follow in their post  How To Construct Your Privacy Policy.
Here's what they recommend including:
Contact Information
The personal data you collect and use
Whether you use cookies
What kind of information will be shared with 3rd parties
Marketing Preferences
Review and Changes
Notifications
Security
Enforcement
Changes
Effective Date
There are even several privacy policy generators available online. These can be helpful to get you started, but always get actual legal advice so you know you are covered.
Here are a few privacy policy generators you can check out if you're interested:
How to Explain AE's Service in Your Privacy Policy
To help you construct your own policy when you're using AE Connect, it's important to know several things:
What Data Does AE Collect?
The short answer is, it's different depending on the service your customer registers with.  We've broken down the information AE collects by service to help you fill in your Privacy Policy more easily.
Does AE Use Cookies?
The short answer is yes. You'll need to tell your customers and visitors in your Privacy Policy that AE uses cookies to track your behaviour to make social logins quick and easy. Check out our Your Cookie Policy.
AE's Privacy Promise
We deal in customer data everyday. We know the companies who work with us trust us to keep their data secure and private. This is a huge deal to us and we don't take the job lightly.
We have a  Privacy Promise that outlines how we collect data and what we do with it. It'll probably give you some ideas for your own.
Best of luck writing your own Privacy Policy. Of course, we always recommend you have the Privacy Policy you come up with reviewed by a smart and trustworthy lawyer.
***
Check out our blog post on the topic for some examples of great company privacy policies you can use as inspiration!

Next Step -> Learn how to write your data use statement
---
---