Email Opt-In Lists
A quick and easy way to add members to your newsletter is to capture them during AE signup.
Example
Here's an example from the Selena Gomez site. Users are asked to subscribe to multiple newsletters when they log in.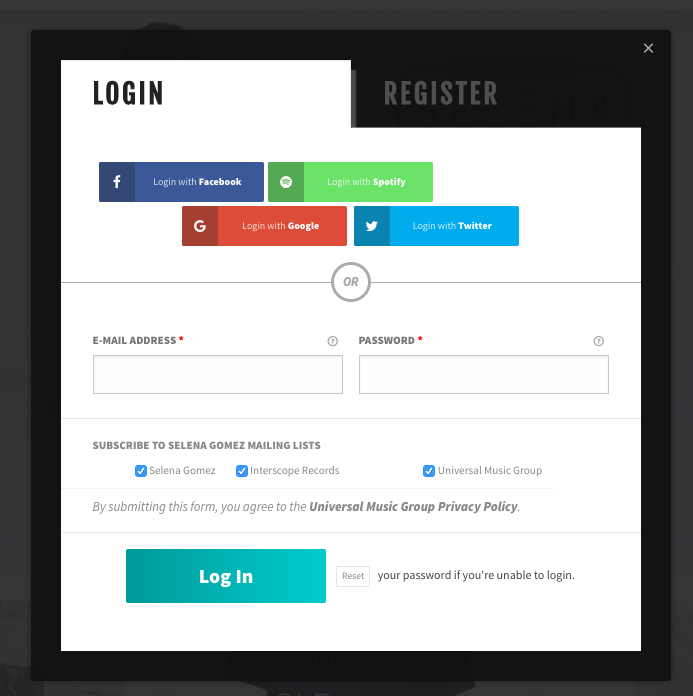 We suggest starting with one broad newsletter. So for my band, Wyld Stallyns, I'd offer one checkbox that says "Wyld Stallyns News."

The Law
You are required by law to specifically ask your members to opt in to receive a newsletter. That's why you need to offer the social login button AND the opt-in check box for your newsletter. 

Get your Opt-In List
So, you've got your members flowing into AE and they are opting into your newsletter. It's easy to get the list.
1. Log into your dashboard
2. Go to your Activity Tab and click on the Active Members button




3. Check the "Opted in for Email" box. This ties into your email opt-in during the members' signup.



4. Press the Submit button to get a complete list.



5. Scroll down to the bottom of the page and click on the Download emails only button. You've got your list. Presto!

Your list will be in CSV format. Most newsletter services will accept this type of file. Just log into your newsletter service (we're big fans of Mailchimp) and upload it according to their instructions.
---
---