Facebook Ad Campaigns
Create custom Facebook audiences that are 100% unique to your business in minutes. Here's how our Facebook Ads integration works.
Before you start creating a Facebook Ad campaign from AE:
First, create a list of members to target. Check out our Creating Your First Campaign article for more information.
Second, get your marketing assets ready to publish. (Including your images and ad copy).

Pick Your Platform
Start by clicking the Start Campaign button on any page. You will be asked to pick a platform for the campaign. In this case, we'll choose Facebook.


Authorize Facebook
The first time you start a Facebook ad campaign in AE, you'll be asked to log into Facebook and grant access to your account. This way, you can easily manage your ads from within the AE dashboard.
The brand that's asking for permission is your selected brand on AE. In this example, we'll use the band, Wyld Stallyns.

Campaign Page
The next page is the main campaign page where you will manage your ad. There is contextual help on the page to guide you if you aren't familiar with the language Facebook uses to talk about ads. 
There are five sections on this page: 
Campaign Info
Ad Settings
Targeting
Ad Creative
Ad Team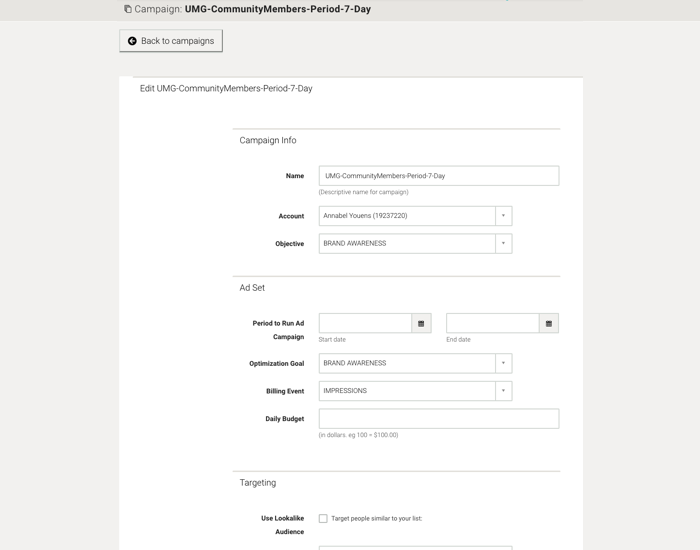 Campaign Info
Enter the name of your campaign. 
Select the appropriate objective for your ad from the menu. Check out Facebook's objectives documentation for more information about objectives.

Ad Settings
Use this section to control the logistics of your ad:
Enter the start and end dates for your campaign.
Choose your optimization goal for the campaign. For example, link clicks would optimize for driving users to a website.
Choose your billing event, which is the method used by Facebook to bill you for your campaign.
Enter your daily budget for the campaign.

Targeting
This is where you can use your AE user intelligence to create custom audiences.
Facebook provides two options for targeting members:
Use the list of members you've collected in AE.
Create a "lookalike" audience.
When you create a lookalike audience, Facebook shows your ad to any users who are similar to the members on your list. This is incredibly powerful!
Hint: We suggest creating the same ad twice, targeting one ad at your list, and the matching ad at a lookalike audience.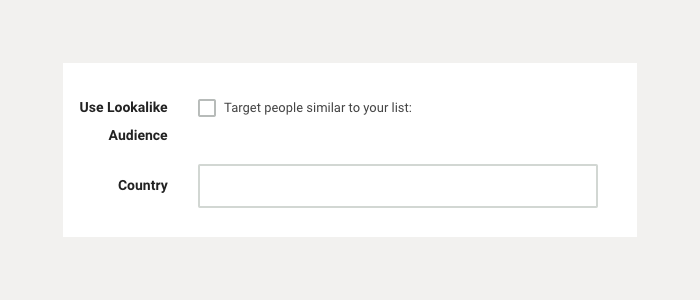 To create a lookalike audience, select the Use Lookalike Audience checkbox and select the country you want to focus on. You can only select one country at a time.

Ad Creative
The ad creative fields set your ad's appearance and content:
Enter the message and the call-to-action for your ad.
Enter the caption for your image.
Enter the link that you want to drive users to.
Upload your image.
Choose your Facebook page from the drop-down menu Promoted By This Page. (If you administrate several Facebook Pages, they will all be listed in the drop-down.) 

Ad Team
Use the Ad Team drop-down menu to add your team. They must have an AE dashboard to be eligible. This is handy if you want someone else on your team to have access to the ad running via AE and Facebook.
Once you've completed this form, press the Submit Campaign button to submit your ad for review.

Review the Ad on Facebook
Log into your Facebook Ad Manager to see your ad waiting for Facebook to review it. Once it's been approved from the Facebook Ad Manager, it will be up and running.

Notes
If you delete a campaign on AE, it is also deleted on Facebook.
After it has launched, you can tweak your campaign via AE or directly on Facebook.
Next Step:
---
---