Testing AE Connect
It is important that you double check that your social login is working, so that your customers can start using it.
This help doc will take you through two quick tests.
Test 1 - Be your First Member
It's time to check that the social login you just added to your website is working.
1. To start, head over to your website.
2. Sign up for your own newsletter, enter your own contest, etc. This step will vary depending on where you added AE Connect. Make sure that you log in with a social service instead of just using your email.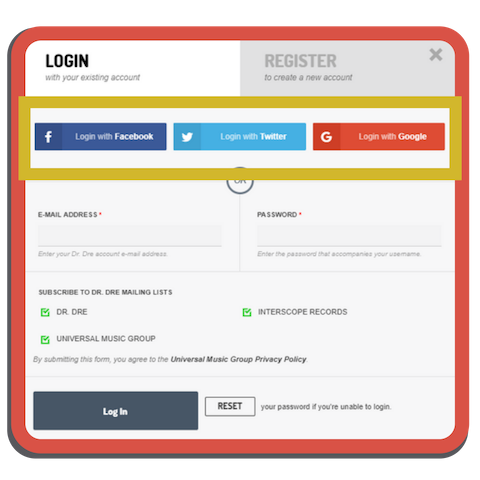 3. That's it! Your checklist should now show this step as complete.
Note: It can take up to 1 hour to see your new member (you!) in your dashboard.
Test 2 - Perform an Activity
Now let's see if the dashboard is picking up activities.
1. First, head over to the social network you logged in with above. For example, if you logged in with Facebook earlier, head over to your Facebook account.
2. Perform a social activity. Here are our recommended activities for each social network:
Spotify - Choose a playlist from your brand on Spotify. Click on the title and either Save (if you're on the Spotify website) or Follow (if you're on the Spotify app).
Facebook - Like your brand on Facebook.
Instagram - Post a photo (pick something fun!) and mention your brand (@ them) in the caption. Also, include the hashtag of your brand in the caption (this should be the same one you entered as your brand's primary hashtag on your brand's page).
Twitter - Follow your brand on Twitter or retweet a tweet from your brand.
3. That's it! Great work.
Note: The checklist will register that you have finished this test immediately. However, it can take up to 24 hours for the activity to actually show up in the dashboard.
With AE Connect up and running, you can start thinking about your first campaign....
Visit the Success Stories section of our blog for inspiration.
Or get started setting up your first campaign right away!
---
---