Creating Your First Campaign
This article walks you through setting up your first ad campaign in Appreciation Engine. For this article, we'll manage a band called Wyld Stallyns and create a Facebook Ads campaign specifically for active fans of the band.

Target a Group of Members
Before we start creating the campaign, we need to make sure we have a group of fans that we want to target.
Once we have selected the Wyld Stallyns brand from the brand drop-down menu, we could find the fans we want to target in a few different places:
The Members tab
The Logins tab
The Activity tab
To find our group of recently active fans, let's specifically filter for members who have recently engaged with Wyld Stallyns on Facebook. We can look at the most recent activity under the Activity tab.




Advanced Filtering
We can filter our group of members using the "Filters" options. 
Let's say we wanted to target a Facebook Ad to every member who has engaged with Wyld Stallyns on Facebook over the last 30 days. 
We can use the filtering drop-down to select the last 30 Days of activity for Wyld Stallyns, and use the Active Members button to show a list of the most active members we know about.
From the services drop-down menu, we can choose facebook to narrow down our results to just members who are connected to AE via Facebook.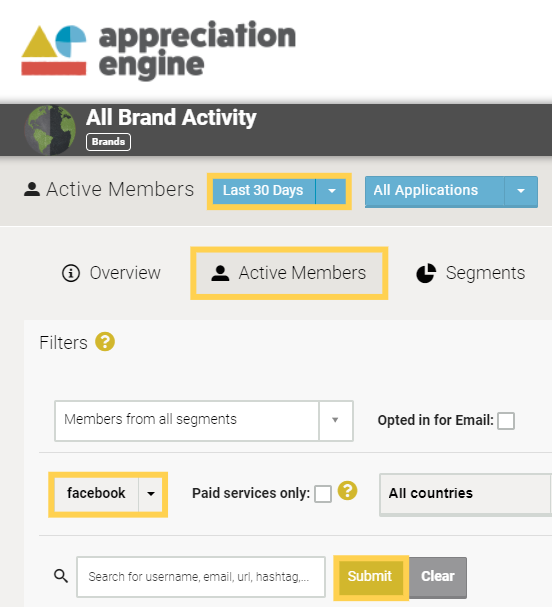 We can start a campaign targeting these members specifically using the Start Campaign button at the bottom of this page. You will be prompted to choose whether you want to create a Facebook Ad campaign, a Google AdWords campaign, or an email campaign.

Campaigns Tab
After you have created the campaign, you can view, edit, and delete it from the Campaigns tab.
Common Groups of Members
In this article, we targeted members who recently engaged with Wyld Stallyns on Facebook. However, we could have gone to the Members tab and chosen the all-time most-engaged members.
There are many ways to use the dashboard data in Appreciation Engine. Being strategic and specific can help you make more successful campaigns.


Next Step:


---
---